The HelpLivi system does not only offer the function of calling for help with the panic buttons. One of its integral parts is also the fire detection in buildings. We are often asked how to improve the fire safety in your buildings. In case you do not have an electronic fire signalisation connected to the fire department, your fire protection systems might be already outdated, dysfunctional or simply not sufficient. Your smoke detectors might have already an empty battery, without you knowing about it. In addition, the sensors might signal a fire only acoustically on the spot, but do not send an information anywhere else. So if there is a fire (for example, on the far side of the building), the staff may find out about it late.
Quick Response to a Fire
HelpLivi detectors not only alert the surroundings of the scene with sound, when the smoke is detected. They immediately send an information to the HelpLivi application at the same time. Therefore the staff know about the alarm in no time. In addition, in the application they can see which detector sent the information and where specifically the fire starts. Thanks to timely notification, they can promptly resolve the situation and prevent great loss of lifes and property damages.
The batteries in our detectors last up to 7 years. If it drops to a low level, the detector themself send a low battery alert to the application. That's how you know it needs to be replaced.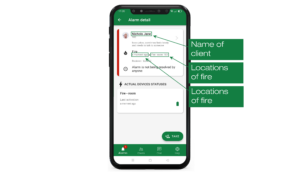 Simple and Functional Solution
The installation of detectors is quick and easy as they are wireless. All you have to do after the instalation is to set them up in the web app.
HelpLivi solves the fire safety in your building and at the same time it saves you time and money.
You can also use the function of calling for help with panic buttons or recording of the care tasks performed by the staff. See what HelpLivi can help in your facility with.
Check out other panic buttons or detectors for increase of the security of the building